SWEC: Say No to the Wall Saturday 5-7 pm
Protesting the border wall last year in South Texas. Photo Sierra Club.
We invite people from around the region and nation to join us tomorrow, Saturday, June 2, 5-7 pm, where we will demonstrate to the world our unequivocal rejection of the border wall that harms our desert wildlife and fuels further militarization of our border communities.
Recently, a $72 million contract has been awarded to Montana-based Barnard Construction Company to replace existing 4-foot high vehicle barriers with new 18′ steel bollard wall. This new wall along the U.S.-Mexico border in Santa Teresa, N.M. will mark President Trump's first victory in building his promised border wall.
Border residents are united in opposition to the militarization of our border communities. Over the last two decades, the United States has militarized the southern border region with little regard to its negative impact on our communities, wildlife, and environment. We will not stand by and let this continue. Join us and add your voice in opposing this destructive and divisive border wall.
There will be buses leaving from Las Cruces at 4 pm promptly, returning at approximately 8 pm. Space is limited–please sign up in advance. You can reserve a spot here: https://docs.google.com/forms/d/e/1FAIpQLSc44tp1cK1EHgTddwXCCpgZTQlw9SqG9qHxRGA84xlvZWsWhw/viewform.
Hosted by: Southwest Environmental Center, NM CAFé, ACLU Border Rights Center, Center for Biological Diversity, ACLU of New Mexico, Defenders of Wildlife and Sierra Club.
Location: Santa Teresa, NM – Rally location is at the cul de sac at the south end of Avenida Casas Grandes on the border line from Santa Teresa, NM. Head south on Pete V. Domenici Highway and take a right on Binational Avenue (before going to port of entry!). In ¼ mile, make a left on Avenida Casas Grandes. See map.
Google maps directions:https://www.google.com/maps/dir/Las+Cruces,+New+Mexico/Ave+Casas+Grandes,+New+Mexico/@32.0901464,-106.9758981,10z/am=t/data=!4m14!4m13!1m5!1m1!1s0x86de3bf9aed1c09b:0xbc2724dbe952cc2d!2m2!1d-106.80859!2d32.389385!1m5!1m1!1s0x86ddfa9c74c700a5:0x60806afbab7d6151!2m2!1d-106.6924449!2d31.7898131!3e0
Note: the time of the event is 5-7 pm, not 5-8 pm as earlier announcements indicated. It will be hot–bring hat and sunscreen, and be prepared to walk short distance. Drinking water will be available, but bring your own too. And don't forget a protest sign!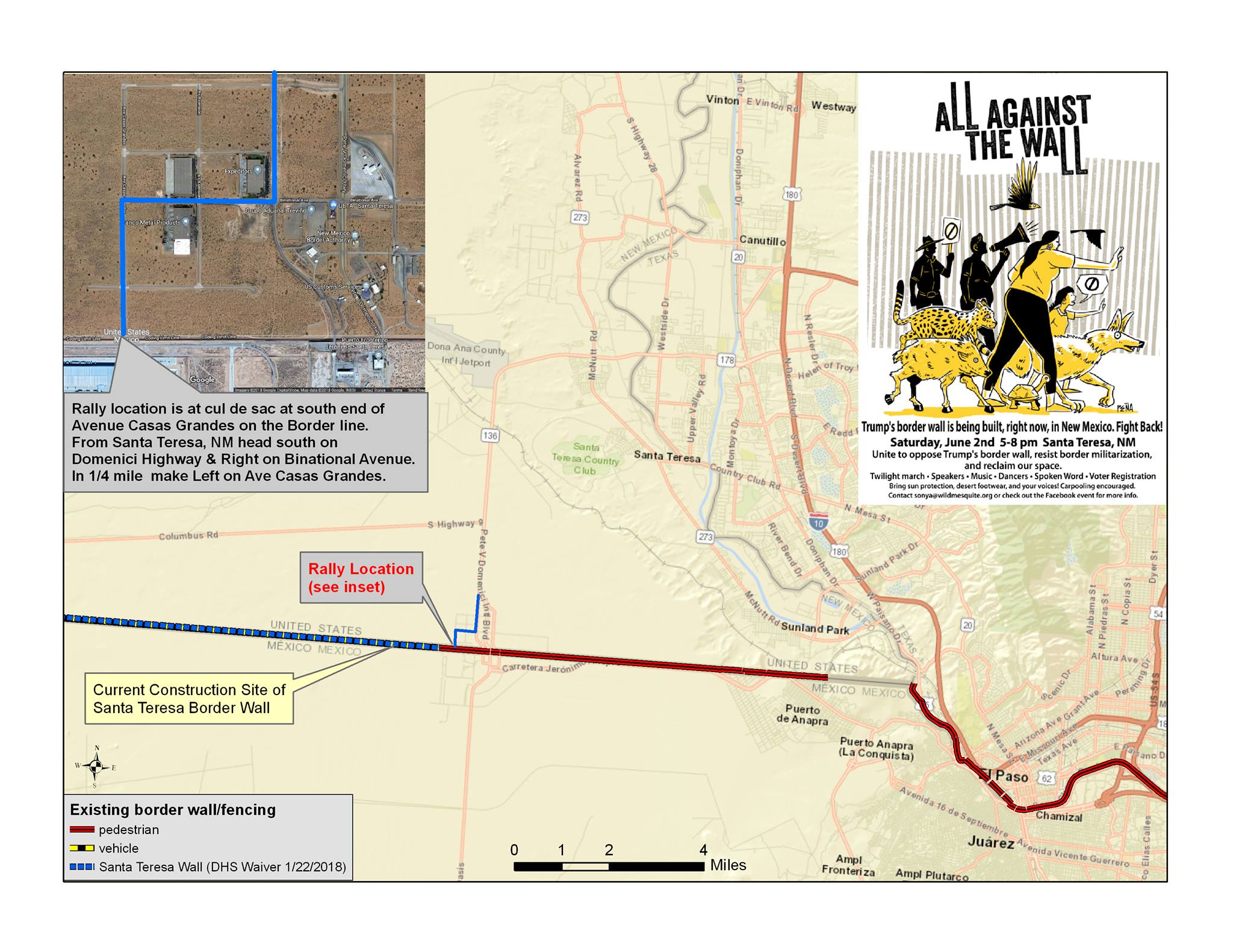 Comments
Social Widgets powered by AB-WebLog.com.